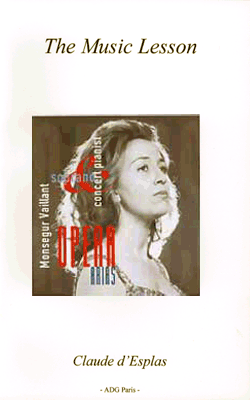 Fifty Years

by

Monsegur Vaillant

Good-day to you, Master !
Diemer Hall, rue de Madrid, end of March, one of these years out of time ; it is fine and mild, we are sitting under the windows, close to the two Erard pianos, nervous behind the smalltalk, a little tense because of the concern to do it right, but happy, ready to take part in the Exceptional Concert, privileged by him who, suddenly, was to make us orphans on the search-road towards the absolute.
The door opens : "Good morning, my children, it is spring, go out into the countryside and breathe and walk, and forget the piano !" Yves Nat had entered, with a waft of High Life cigarettes however damaging to his health, and without effusiveness, nor stretched-out hand ("that's unhygienic… what an exchange of germs… !") , in a low and round voice lightly marked by a Béziers accent, affectionately invites us to the musical banquet which will follow and sits down in front of his piano, the one by the side wall. "What is today's menu ? " Then turning to a female student alreaday over-qualified in the "écriture" classes : "What do you have on your plate ?" "La Barcarolle de Chopin". "Good !" . Then starts a mannered interpretation, detailed down to the water-drops of a wave whose curves disintegrate in the end. We are bored. At the end of the work : "A good attempt ! But don't you believe that it would be better to keep in place a tempo of regular balance". Yves Nat then plays the introduction ; a sumptuous bass, followed by a questioning chord, in space, which then spirals down again and, after a last hesitation silence, becomes regular undulation, sustaining a melody of infinite sweetness.We leave materiality and let ourselves be drawn into an irresistible whirl, vast, in this universe where Chopin moved, like Beethoven, Schubert, Schumann, all those who attained the summit, its trace rediscovered by Yves Nat who trasmits to us, perhaps unconsciously, its unspeakable essential.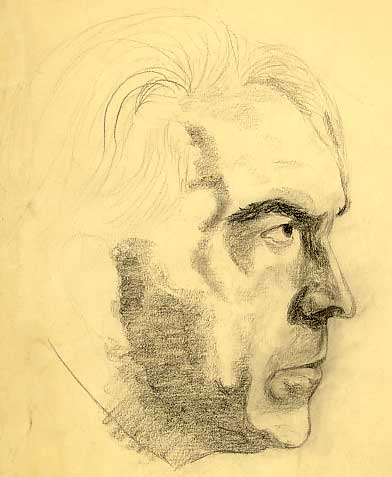 When the last lapping of the water comes, in this strange ballad, and the ultimate bars which seem to say "that was it, no possible error", we are still dumb before any explainable emotion, and there comes this "I prefer my version" which throws us brutally back into reality, to be disconcerted this time, to the point of malaise, at so much incomprehension and disdain.
One has to face the facts : there are scholars, analyzers, scrutinizers, dissectors of music lines, with the future critics at the bottom of the range, jumble sale Beckmessers, detectors of wrong notes, unable, of course, to decipher and, even less, hear the music emanating, happy as they are – rats and mice of laboconservatories – to gnaw away on the rind of a cheese that has neither smell nor flavour.
It is difficult, after this scene, to pass on to other things. Fortunately, the most gifted girl among us, a true musician this time, proposes the Jeux d'Eau de la Villa d'Este by Franz Liszt ; she extracts from it a pure marvel of limpidity. Some advice will folllow to confirm, if that was necessary, an already irreproachable interpretation.
On the following plate, the 3rd Concert by Beethoven, or was it that by Liszt or by Schumann – the Saint- Saëns Concerto was reserved as a punishment for students lacking in effort – it does not matter, Yves Nat replaces the orchestra, without music to look at, and leads to the goal the male or female soloist sometimes in need of tempo or of rigour.
Nearly at the end of the first movement, there is the photographer with the annual and official task to eternalize, for ever, the Master and his pupils ; this is done quickly. "Done with love !", Yves Nat concludes, smiling. But for us, this imperfect picture will remain the precious witness of years passionately dedicated to Music, under the leadership of an irreplaceable master, so close to and respectful of the composers whose works he transmitted securely, without adding elements of an inflated ego.
Except his own Concerto, certain passages of which he revealed to us – among others, this "waltz of death" and its complaints in repeated notes, which seemed to cause him anxiety as a prelude to his Concert at the Théâtre des Champs- Elysées, directed by André Cluytens – he was no longer Yves Nat, but Beethoven, Schubert, Schumann, Chopin, Chabrier, Liszt, Brahms, Fauré, Debussy or Ravel, and if an instrument existed that could reproduce the digital tapes, recorded in our brains, and re-issue the sonatas, variations, impromptus, ballades, fantasies, barcarolles, preludes , nocturnes, Jardins sous la Pluie, Jeux d'Eau, Isle joyeuse, Scarboand so many more, magicly brought forth by his fingers and for ever graven into our memories, many sublime "Moments musicaux " would be given back to all those listeners who were not favoured, as we were, to receive directly this inestimables offering, this side and that of all concession to circumstance.
Thank you, Yves Nat, for encouraging us to follow the only possible way, that of non-complaisance. All theses notes, while waiting to say again, perhaps one day, "Good-Day to you, Master !"
Monsegur Vaillant
Filmographie : cf. document INA * La classe d'Yves Nat au Conservatoire National Supérieur de Musique de Paris avec Giselle Monsegur Vaillant au piano