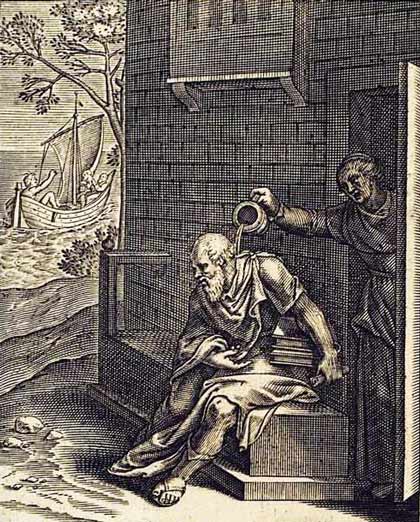 Pear-trees, it is said, can live up to two centuries and more, and are capable of rizing above sixty feet while covering with their branches a surface area equal to their height. They are supplied with charming names : le Moque-friand, the Robin or gris cochon, the Raguenet, the Mantrissotin, the Sabot, the Maillot, the Sauger, the Corisi which produce an excellent perry ; the eating pears they are called Blanquette, Crassane, Mouille-bouche, Messire Jean, Echarsens, Castillac, Gros-Râteau, or Cuisse-Madame ; but none of these varieties can compare with the "poire de curé" with which the uncle of Mr Fallacy, the ecclesiastic, regaled himself between cheese and coffee, a drink he was very fond of, thus forgetting the schisms, the heresies, the Jansenists or other Parfaits ("not more perfect than no matter which coffee parfait by the way") or even his most secret ambitions maliciously entertained by his housekeeper who thus took revenge for a bouillon of which it had been said unkindly that it was done less well than the one of the preceding Sunday : "what are you waiting for to be a Cardinal ?", she replied back to him, offhand, "like Candale, the third son of Marguerite de Foix !"
Mr Fallacy's uncle knew perfectly well that a red hat is not given just like that, even at the instance of a cordon bleu and he evoked, immediately, Xanthippe whom Socrates is supposed to have tasted, thus the word, before the hemlock. But Socrates, that was Greece, the cardinalate was satisfied with Rome and Mr Fallacy's uncle did not like journeys, he who returned home covered in mud and dead-tired from a visit to his Dean two miles from Chêne Planté - as little as he appreciated the ambitions of these young tonsured for whom the journey to Tolosa was only, so he said, "jeu de mollets pour jambettes". Not that his young confrères went to the theatre to see and hear the farces of Poquelin and the laughter of Madeleine and of Armande her daughter (Jean-Baptiste and the two women peregrinating always together) at the time where episcopal ordinances and parliamentary decrees followed one after the other, prohibiting the nudities of the bosom, even if they were mere fluctuations of fashion ; a fashion by the way so widely spread during half a century that the threat of excommunication had to be brandished against all those who appeared in the confessional or at the Holy Table, bare-breasted, a threat extended to regular or secular priests who risked suspension by admitting them in this state (or even hidden !) ... Prescriptions which Moussu le Vicomte de Fountaraillos chastely resumed thus addressing his obliging maid-servant : "Qu'es aco que toun gan manejo, aco soun dos bolos de néu, Friando se voi qu'on te créjo amago te le sé pu lèu" (What is it your glove fiddles about with ? These are two snow-balls. Sweet-tooth if you want that one believes you, do hide your breasts).
Noone was considered ignorant of the Law (Jean-Baptiste Poquelin had, by the way, begun studying law), as opportunely recalled by Tartuffe (or was it Michel Baron ?), but noone, either, could prevent these ladies from having backsides like pears, "the most succulent ones", assured the barons of the Second Empire, while sharpening their dessert-knife.